East London History
My roots are in London, I grew up in the East End. These are some of the places I have found that have enriched my searching.

I was born in 1955, in Highgate Hospital, London, from where Dick Whittington is supposed to have heard the sound of Bow Bells. That makes me a true cockney.


Cockney Rhyming Slang
Resource of the cockney dialect. Some expressions I hadn't heard of before, so it is still evolving.

A game with rhyming slang
I liked this. Had fun seeing what I could remember - and what phrases I still used without realising their origin.


I grew up in Leytonstone, but spent a lot of my childhood in Hackney/Dalston/Shoreditch/Liverpool Street areas as well as touring England's West country a lot during Summer holidays, with my grandparents. My granpop would drive from London and we would spend out first night in a clearing in the New Forest, in Hampshire.


Every morning the ponies would come up the road and gather around us, grazing, curious and waiting to see what goodies we would offer. I can remember the smell of those crisp green mornings, my nan cooking breakfast on an old Primus stove so that bacon frying mingled with the woody forest smell. I remember the washing of face an hands, and all the other bits, with a bowl and wash cloth, Pears soap being the order of the day to keep my skin soft and clear.

Here is a picture of me at 2 years old.

In those days they used to have a yearly Miss Pears competition for little girls up to 12 years of age, and the winner was used as the poster child for the upcoming year. You can still find illustrations of some of these old posters. I never achieved my childhood dream of becoming Miss Pears - but neither did a lot of other little girls of the time, either, so I don't feel so bad now.



More of my memories can be found here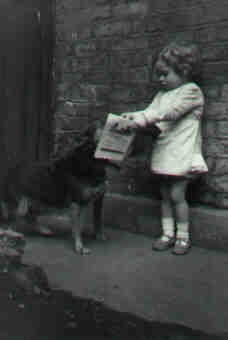 A pic of me with my nan's dog, Fluff. When my nan and granpop moved into the maisonette, Fluff went to live with my Aunt Irene in Manor Park. At that time, the privy was still out in the back yard and you had to go to the end of the path. Fluff was also out in the back yard, and my dad was terrified of her and for some reason she didn't like him either. His need to go to the privy would be postponed until he couldn't hold it any longer, and it'd be a mad dash for him to get to the privy before Fluff could chase him.


Click here to go back to the main page of my genealogy site, or here to go to The Fun and Frustration of Family History page.





This page is about my childhood, and this one about my nan.






NEW GENEALOGY MESSAGE BOARD
Please visit and post for help with names you are researching, or to help someone else. Thanks for visiting.