I was one of those children who loved school when I was younger. From starting in the infants at George Tomlinson School until the day I left the Juniors in the Summer of 1966, my schooldays were one of the best times of my life.



I was lucky to be a child who loved learning, and I had people in my life who also cherished it. My mother had won a scholarship to the Blue Coat School when she was younger but had been unable to accept as her parents could not afford the uniforms and other necessities. My nan had fostered in me a love of history and art, and spoke a lot about the differences when she was a child. A steady stream of Ladybird Books and I-Spy booklets throughout my younger years helped keep me occupied as well as providing additional learning materials. That these are still available today, some 35 years after I was an avid fan, is testimony to the fact that they are fun and kids love them still!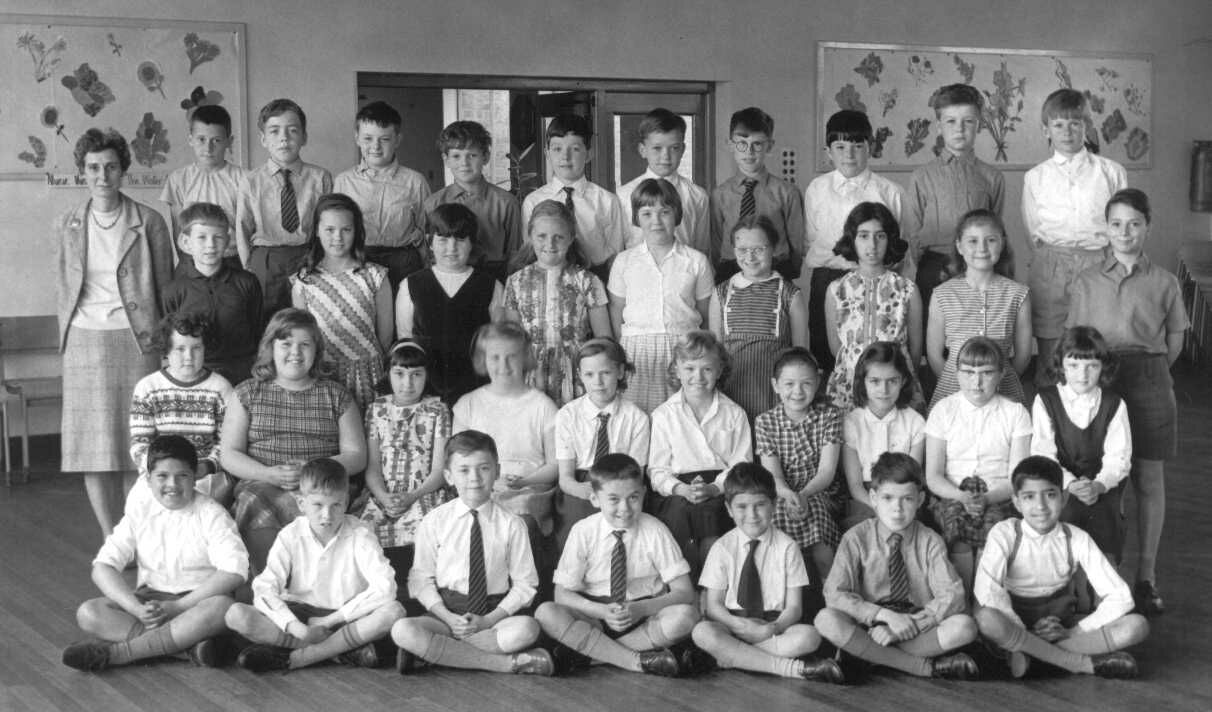 Miss Lynes Class, either 1964-1965 or 1965-1966.
Front Row (from left): ?, ?, Ian Burns, Robert, ?, ?, Saeed Sharif;
2nd Row:?, Joyce Carne, Elaine O'Dell, Janet Baxter, ?, Jane Barlow, Anne Gage, Katie Beinder, ?, Stephanie Baum:
3rd Row: ?, Jacqueline Austin, Margaret O'Connor, Rosemary Lammas, Alison Tidy, me, Toulla Karlettis, Shan Fisher, Trevor Stannard:
4th Row: Steven, ?, Alan, Philip, ?, ?, ?, ?, ?, John Byrne.
If anyone can give me the names of the other pupils, please email me at:
mrsrosedempsey@aol.com
An excellent site that has helped me track down some old schoolfriends in England (I now live in America) is Friends Reunited UK. Not only can you register with your schools and jobplaces, but you can do name searches to try to track people down. They also have areas for posting school memories of teachers and happenings, or for posting "looking for" messages.



NEW GENEALOGY MESSAGE BOARD
Please visit and post for help with names you are researching, or to help someone else. Thanks for visiting.



I only had 2 teachers in the 4 years that I was in the Junior School. The first 2 years, I was in Mrs Stark's class, and the last 2, Miss Lynes. In the infants school, I believe my first teacher was Miss Martin, and then I was in Mrs Isaacs class. I remember for the first couple of weeks, sitting on the teacher's lap during story time (just before the end of the day). The parents would start congregating outside, and I'd see my mum with the big maroon Royale coach-built pram, out there and start to bawl. I was a bit of a cry-baby, I suppose.



One of my worst memories of the infants school was one of the dinner ladies, Mrs Girling, and I think she hated me from the beginning. I was a picky eater, did not like milk or custards, rice puddings, anything made with milk. My mum even sent a note to say that I didn't like them. Mrs Girling would swamp my dessert with custard or blancmange, and for a few times would force me to eat it. Until the day that I was really sick and vomited everywhere. After that, she never did it again, but always gave me this evil look as though it was my fault and not her spitefulness that had caused the incident.

The Headmistress in the Infants School was a Mrs Edwards, and she was a darling. Always had a hand available to hold, or a lap to sit on. Smiles for everyone. She retired from George Tomlinson, after I went "up" into the Juniors. We really did go "up" as the Infants had the bottom floor of the school buildings and the Juniors had the top. Each had its own playground area, the Infants had a Jungle Gym while the Juniors had a football pitch and netball court marked out on the playground surface.

Some of the games we used to play are in a book called Playground Games . A couple of the ball games, my nieces were playing only 2 years ago, like "Teddy Bear, Teddy Bear, Touch the Ground". It was amazing hearing these (very modern and sophisticated) little girls playing a game that I had played when I was their age. I remember "Colours", "Letters", "Stones", "Jacks", "Peep Behind the Curtain", "Queenie, Queenie, Who's Got The Ball?" and even playing "Whose Afraid of the Big Bad Wolf?" up until I was about 10 years old. How many of today's ten year olds would even play innocent games like that now? Everything is electronic games, video games and CD-Rom's. They are so grown up now, at such early ages.


Mrs Stark didn't care much for me , but I still flourished under her tutelage.I was one of those kids you could give a book to and I'd get my nose lost into it. I loved to write stories, and filled those little red journal books with all manner of tales of Victorian life and all sorts. It was my love of books that got me into BIG trouble!

In those days, the class used to be taken to the Leytonstone library for weekly visits and children with a library card were allowed to get books out of the library. Unfortunately, my mother refused to sign the application for me to get a library card. This because, in case of infectious diseases like measles, chicken pox, whooping cough and stuff, back then, if an infectious disease happened in a household, any library books had to be sent to a special place to be sterilized before being put back on the shelf.

Well, my mother wanted none of that hassle, so she said I couldn't have a library card. Now, to a child who loves to read, this was like a death sentence. But, if your parents wouldn't sign, the teacher could (with the parents permission and on behalf of the parents) but the books would have to stay at school. My mind worked overtime all that week, but come the final day to hand the cards back in and I was in a panic, so I signed it myself, with my mother's name. I was about 8, but like my granddaughter, Angelica, had pretty good handwriting for a child.Everything was fine, and I began to get books from the library on the weekly class visits, until the day that I got found out!

My sister, Therésa, went down with whooping cough, and I can remember us all being traipsed to Dr Mahood's surgery at the top of our street, Queen's Road, and having to suffer the indignities of dropping our drawers and getting whooping cough jabs in our bums. Then, as if that wasn't bad enough, the school was notified of whooping cough in the family ... and a letter came for my mum advising her of the procedure for getting library books sterilized. She asked me what they were talking about, and I LIED and said Mrs Stark had signed the card. This has to be why I don't tell lies now, because instead of making everything better, it created a worse mess.

My mother , apparently, called the school and let rip at Mrs Stark, who had no idea what she was talking about. Mrs Stark then asked me , and I had to admit that it was indeed I who had signed the application card. In all fairness, she did not get mad at me.

"Rosemary, "she said, "you need to go home and tell your mother that it was you who signed that card."

That evening, I made myself ill with worry as to how to own up to the truth. Finally, while my mum was ironing the washing, I told her. She sent me to bed with "Wait until your father get's home!" ringing in my ears. This really hurt as I was such a little goody goody usually, but more to the point because beloved library ticket had gone to the land of the never to be seen again, and because to me this was the absolute worst thing that could happen.

Every class trip to the library after that was a constant reminder of the wrong I had done,and a punishment for me in that I could not take out books any longer.





I have so many other memories of my schooldays - check back again in a couple of weeks when I hope to have updated this page. Thanks for stopping by.


Click here to go back to the main page of my genealogy site, or here to go to The Fun and Frustration of Family History page.