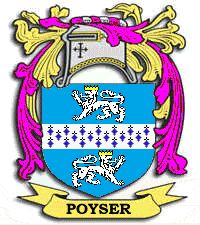 Blazon: Asure, fess erminois between two lions passant and counterpassant, each crowned with an Eastern coronet.
Trans: Blue, an ermine military belt or girdle of honour between two silver
lions walking in opposite directions crowned with an
Eastern coronet of gold.
Azure: Blue. Signifying loyalty and truth.
Erminois: Gold, with black spots. Signifying nobility.
Coronet: Signifying victory in battle.
Gold: Signifying generosity and elevation of mind.
Stag: Shows centered on top of the coat of arms in the heraldry that I have, although not on this diagram. Signifying fleetness, longevity and sometimes seclusion. In rose, signifying military fortitude.